 THE MOST EXCLUSIVE
CHESS CLUB IN THE WORLD
Among the rich and famous, sits millions of dollars of paintings, by the 'grandmaster' of fantasy art – Frank Frazetta. And now, for the first time ever – 6 of his iconic works have been exquisitely crafted into one solid silver chess set.
The Frank Frazetta Legacy Collection is your membership to the most limited edition chess club in the world. It's a unique, private world, where fantasy art geeks rub shoulders with silver investors, chess players and fine art collectors. This one of a kind limited Frazetta statue set has been immortalized in 168 ounces of solid .925 silver and exclusively licensed by the Frazetta Art Museum.
It's silver bullion for your desk, and pop art with class.
While many desire it, only 50 will secure this limited edition collection.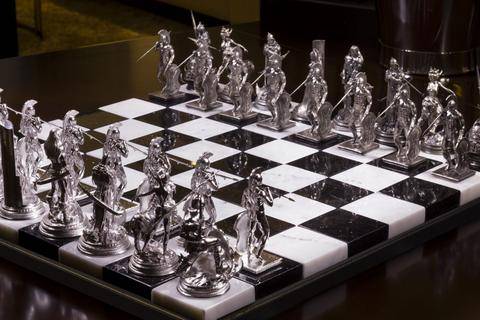 INCLUDES: (16) ATLANTIS – (4) SILVER WARRIOR – (4) DEATH DEALER 3 – (4) HUNTRESS – (2) EGYPTIAN QUEEN – (2) BARBARIAN - (64) HAND-CUT MARBLE SQUARES - CUSTOM BOX & CERTIFICATE OF AUTHENTICITY
YOU NEVER TRULY 'OWN' A
SILVER FRAZETTA CHESS SET
… It's simply yours to look after, for the next generation.
It commands respect. It tells vivid tales of warriors and queens, soldiers and phantoms. So finely crafted by artisans, it's like the characters stepped off the canvas and straight into molten silver. Frank's biography is entwined among his portfolio, detailing an unprecedented eye for detail.
THE ARTISTS'
ARTIST, FRANK FRAZETTA
1928 – 2010
Frank Frazetta was the master of Modern Fantasy Art. As the original artist behind JR Tolkien's Lord Of The Rings, his images still influence creativity and excellence today. He was a visionary in the Sci-fi and fantasy art genre. And he gave an emotional exactitude never seen in other artists, as seen in Wild Ride. Frank never misses a stroke on her perfectly composed buttock, masterfully completed with cellulite, and redness from riding bare back.
While other artists created characters with blank or contrived faces, Frank captured the eyes of his subjects with precision. Stare into them long enough, and you'll catch yourself looking over your shoulder, or drifting off to imagine what they see. Frank's work went beyond even dreams or visions; it was as though he walked straight into history and painted what he saw with chilling accuracy. Like the $400,000 oil painting, Bran Mak Morn, and the bloody battles between the Nordic and Neanderthal.
WORLDS APART FROM ANY
OTHER CHESS PIECES
One side of your set is antique finished while the other is Rhodium plated. All 32 chess pieces have been hand crafted to a museum quality finish and weigh between 4 – 8oz. Each silver chess piece has it's own historic story to share.
Meet your Frazetta pieces.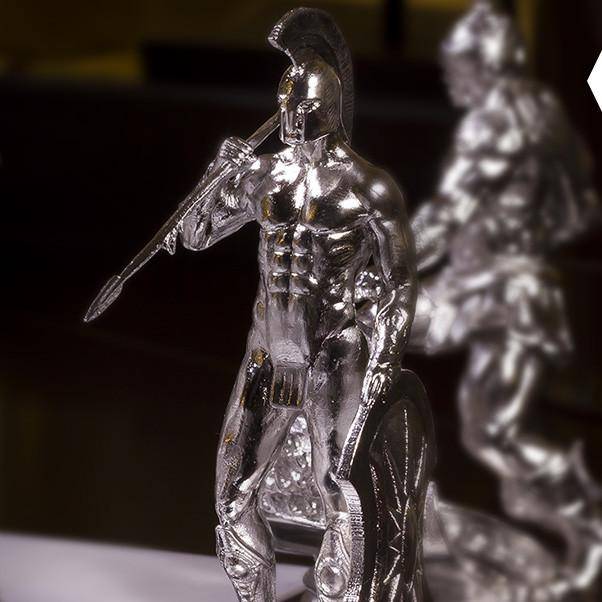 Does the lost city of Atlantis really exist? If so, you'll find Frazetta's Greek warrior standing valiantly among the ruined city. Brad Steiger demanded this chiseled soldier as the cover for his famous book Atlantis Rising. Atlantis and his infantry bring unwavering courage as the silver pawns in your chess army.

North of Iparsia, there is a land of frost known as Icevald. Akrila Sangrilak, the Silver Warrior, has watched over this land for decades. But now, Icevald is under attack by the Vikavian raiders. Who will save the people of this frozen tortured land? With sword in hand, and sled racing at breakneck speed, this Nordic warrior stamps your chess game with a mark of power and unbreakable defense.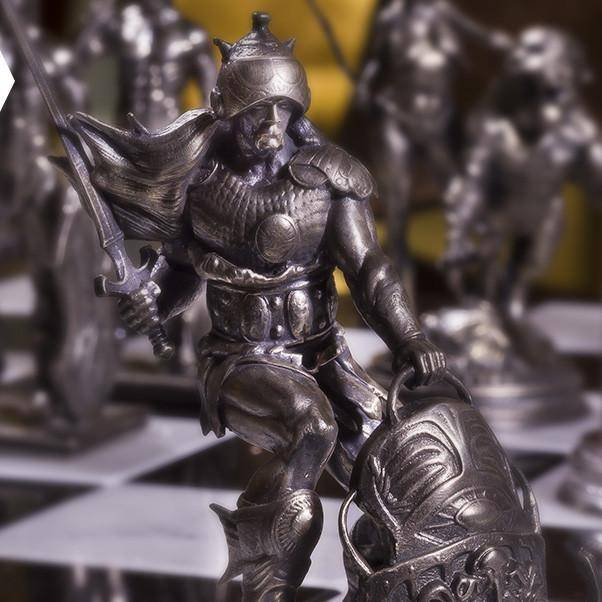 Frank knew how to capture warrior women with spectacular strength and clarity. Something very few artists could match. The Huntress is one of the most well known of his strong women. Here she triumphs, bringing a pair of Sabre Tooth Tigers to their knees. She'll unleash raw feminine sexual energy and masculine power to your chess game.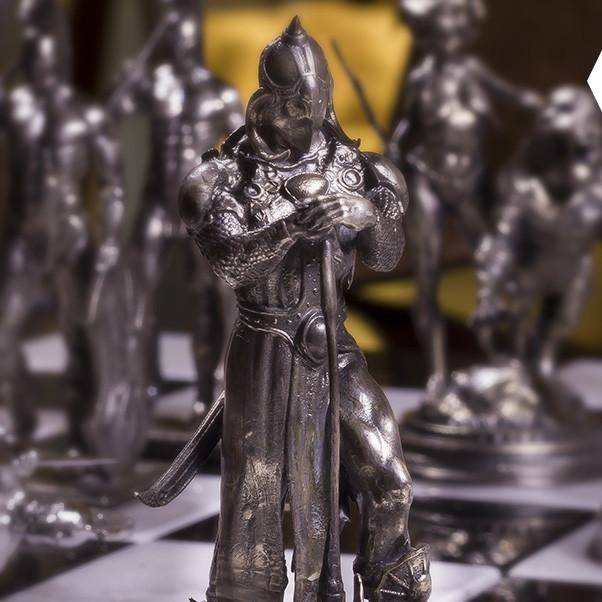 He is a foreboding phantom and undoubtedly one of Frazetta's greatest icons. Frank created several versions of this brooding warrior and this, is Death Dealer 3 – Rise Of The Death Dealer. Weary from protecting his lands, and from behind his horned helmet, the tortured soul – Gath, stands among the bones of his foes. This unique chess piece brings your game quiet moments of triumph and glory.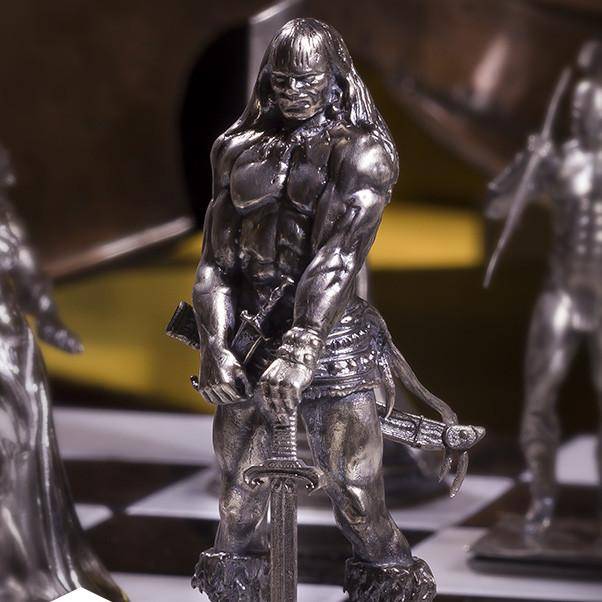 Next to his fierce female warriors, Frazetta's mastery of the true feminine, gave birth to the sultry, Egyptian Queen. In his original work, the sensuous queen leans seductively against an ancient Egyptian column. Wistfully, she gazes off to her right, as a guard stands at her left. Your silver queen adds a tone of quiet dominance to your board as she brings your foes to their knees.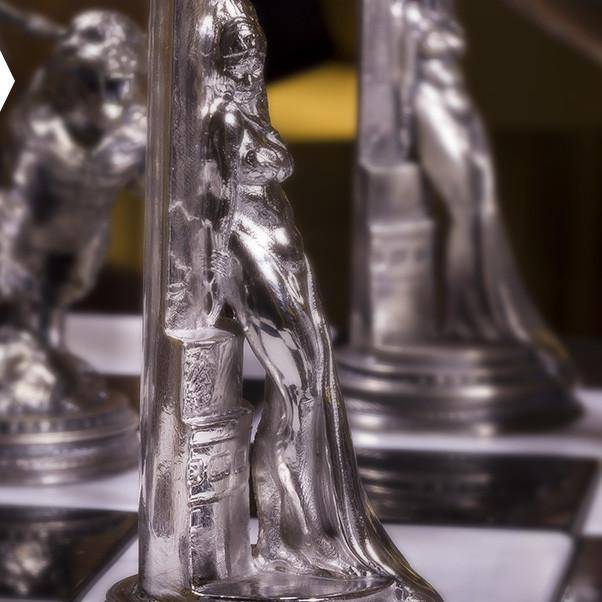 Poised triumphantly upon the remains of his defeated enemies stands The Barbarian. Without doubt, this is Frazetta's most well known icon. For your solid silver chess set, we've selected #5 – Conan The Adventurer. With sword in hand he challenges adversaries to come forth and battle. He stands with unadulterated power, commanding respect from your opponent.
FRAZETTA'S 32-STATUE CHESS SET
INCLUDES: (16) ATLANTIS – (4) SILVER WARRIOR – (4) DEATH DEALER 3 – (4) HUNTRESS – (2) EGYPTIAN QUEEN – (2) BARBARIAN – (64) HAND-CUT MARBLE SQUARES – CUSTOM BOX & CERTIFICATE OF AUTHENTICITY
1:24 SCALE SOLID SILVER STATUES
6 OF FRANK FRAZETTA'S MOST ICONIC WORKS,
BROUGHT TO LIFE IN SOLID SILVER FOR THE VERY FIRST TIME.
NOBLESSE OBLIGE – FULFILLING THE LEGACY
Understandably, The Frazetta Art Museum awards the privilege of replicating Frank's works after great thought and research. Through painstaking development and dozens of prototypes, Heads or Tales Coins & Collectibles was finally awarded the license. We are honored to bring solid silver Frazetta treasures to this exclusive market.
… Great privilege bears great responsibility
Proceeds from the 50 chess sets will be gifted towards the Frank Frazetta Museum. This is to preserve his legacy for generations to come. Conan, Tarzan, Gollum, and fantasy art as we know it, would not exist today without his vision.
This one of a kind collectors' item, is never to be matched in our lifetime.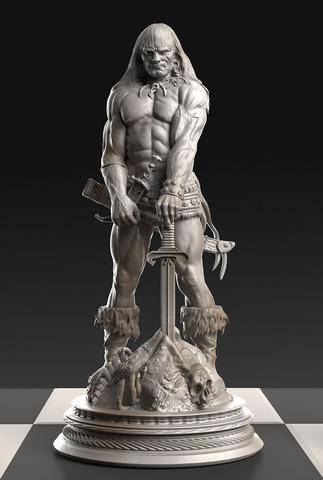 We secured the high caliber talent of renowned 3D Artist Caleb Nefzen for this collection. His mesmerizing works received numerous awards and accolades. He's been featured on the covers of several popular Art Magazines and was a recently selected 3D Art judge for the 2016 Comicon Challenge. No one brings Frazetta to life with such precision.
World Leading Technology
Only the latest 3D printing technology was able to bring Frazetta's characters to life with the same emotional exactness. The detail is elegant and spectacular.
Old-World Artisan Silversmiths
Deep in the mountains of Thailand is where you'll find the descendants of silver craftsmen, with a long lineage in the art and trade of creating museum quality pieces. To capture such meticulous detailing and handcrafted finishes on Frazetta's art, we've selected only the finest Thai silversmiths.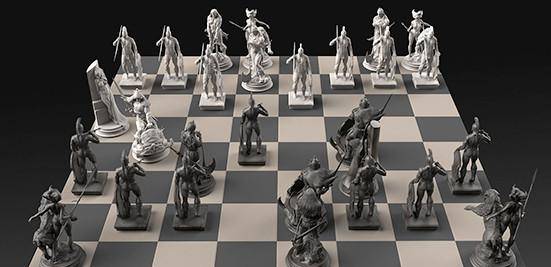 World Chess Federation Approved
Each uniquely crafted piece is built to regulation International Chess Tournament size. Your figures are scaled 1:24, under 10cm in height with impeccable detail. Less than 1% of the world's Chess playing 1% will ever own such a luxury set. It truly is, an exceptional work of art, never seen before.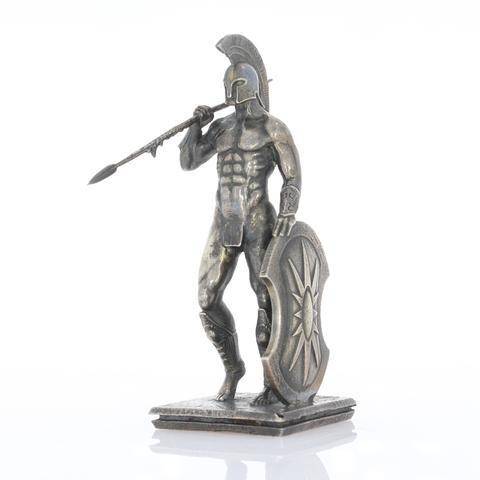 I can't get over how cool this is… So much detail – the most amazing addition to my collection of Frazetta stuff.
Jason Grisham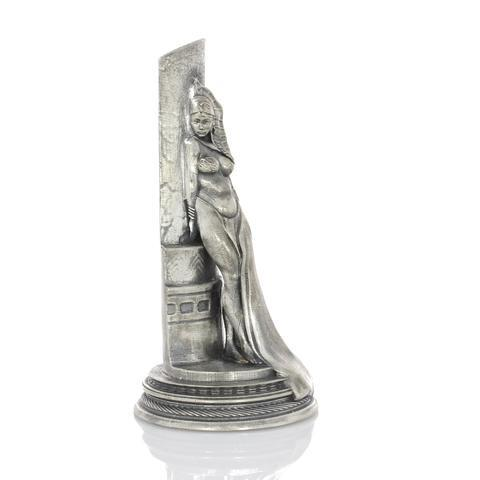 NICE ADDITION TO THE COLLECTION
I love the Egyptian Queen painting – it's one of my favorite Frank Frazetta paintings. This is a pretty awesome reproduction and the first silver that I bought…
David Thompson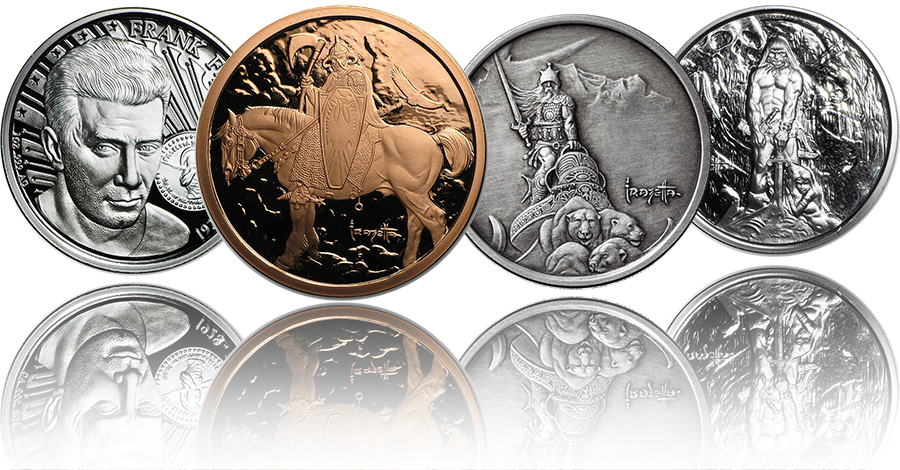 THE FRAZETTA LEGACY COLLECTIBLES
Crafted from investment-grade .999 fine silver

Each silver coin is edge-lettered with unique production number

Limited production!

Encapsulated in clear plastic air-tite case for long-term preservation

Includes matching certificate of authenticity
---
Sorry, there are no products in this collection.